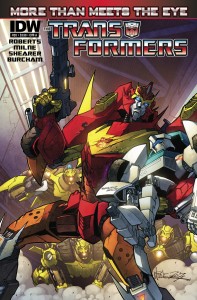 James Roberts. The man giveth with one hand, and then taketh away with the other.
Over the course of its run, More than Meets The Eye has offered us plenty of mysteries and tantalizing hints, some of which were answered early on and others that have remained, to tease and tickle our imaginations.  As some mysteries got their explanation, new ones were planted for future story lines. In this issue we are offered the resolution to one of the mysteries that has been around since the very beginning of this comic's run:
What's the deal with Skids and his memories?
Continue reading Review: More Than Meets The Eye #20 [Spoilers] →