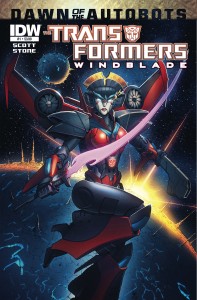 It was kind of a given that I'd like Windblade #1. With Mairghread Scott and Sarah Stone making it the first Transformers comic outside of fanzines and message boards with an all-female creative team, with it introducing a new female Transformer who's not only pushing IDW to diversify their cast but pushing Hasbro to diversify their toyline as well, it would have taken some epic blunders for me to dislike it.
Despite all it has going for it, Windblade could have still been as mediocre as so many other comics on the shelves today and in the past decade. It could have been a great idea bogged down with a bland story and muddy, unreadable art. It could have failed to hold a candle to the other excellent Transformers comics currently running, More Than Meets The Eye and Robots in Disguise. It could have challenged my desire, my need to like it.
I'm happy to say that's not at all the case.
Spoilers ahoy!